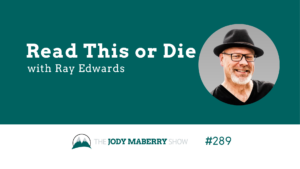 "Often it's up to you to make the decision that changes your own life."
Ray Edwards was a copywriter and marketer at the top of his game. But in 2011, his life took an unexpected turn when he was diagnosed with Parkinson's disease. As the disease progressed, he found himself in constant pain, unable to walk, and even contemplating suicide. Despite trying various treatments, nothing seemed to work.
After much reflection he found himself considering that key to living well, even with his circumstances, was to change his mindset. He realized that he had the power within himself to change his mindset and live a fulfilling life despite his diagnosis. Drawing upon his skills as a persuader, Ray crafted a raw, compelling sales letter to himself, outlining the reasons to live and the purpose he could find in his life. The letter was the catalyst for him to undergo a transformative brain surgery called Deep Brain Stimulation. The surgery improved his symptoms significantly, and he was able to once again enjoy life.
Ray's story serves as a powerful testament to the importance of living with intention and finding purpose in even the most challenging situations. He shares about it in his book "Read This or Die". Intentional living can transform even the most challenging situations. Take a listen to our conversation to get a glimpse into how he guides others on their own journey to live a meaningful life aligned with their values. His passionate advocacy for intentional living makes him a truly inspiring guest.
Connect with Ray
Order the Book Read This or Die
https://rayedwards.com/podcast-archives/
Connect with Jody
About Jody – https://jodymaberry.com/about-jody-maberry/
Instagram – https://www.instagram.com/sugarjmaberry
LinkedIn – https://www.linkedin.com/in/jodymaberry/
Facebook – https://www.facebook.com/sugarjmaberry/
Twitter: https://twitter.com/jodymaberry
Episode Highlights
00:03:35 – The Sales Letter That Saved Ray's Life
00:08:03 – Deep Brain Stimulation
00:09:30 – Making a Change
00:12:32 – Starting from a Place of Strength and Happiness
00:14:10 – Change Through Education, Experience, and Exposure
00:16:15 – Self-Awareness and Doing Your Best
00:18:04 – Remembering Your Mortality
00:23:46 – Writing the Story of Your Life
00:25:06 – Your Life is a Story
00:26:37 – Vulnerability in the Book
00:27:25 – Making a Change
00:28:07 – Gratitude and Closing