How to Look Great on Camera Every Time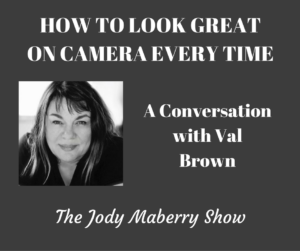 You can look great on camera every time. Not long ago, I did not know this. I thought you stood in front of the camera and hoped the photos turned out in the end.
Early in the year, I had a photo shoot. It didn't turn out real well. I wasn't comfortable using any of the photos on my website. Yet, I still needed photos, so I scheduled another photo shoot. Luckily, between the first and second shoot I met Val Brown.
Val Brown is an Emmy award winning producer. She has been preparing people to appear on television for more than 30 years. I was fortunate to work with Val before my second photo shoot because she set me up to improve on the first photo shoot, the one where I did not do so good. Now, we are both fortunate to have the opportunity to sit down today with Val Brown. I want to walk through the process Val and I went through to prepare me for the photo shoot. I know you are going to learn plenty from Val, so let's get to work.
In this episode, Val Brown will walk you through the process we went through to prepare me for a photo shoot. After listening, you will realize you can look great on camera every time. If you want to learn more, don't miss out on more tips from Val. You can get here guide, How to Prepare for Your Next Photo Shoot, below. Just enter your email address and you will get the guide promptly.
Enter your email to get Val's Guide, How to Prepare for Your Next Photo Shoot.
Val's website – VisualBridgeCommunication.com
Val on Twitter – @ValBrown08
Here are two examples of the result of doing a photo shoot after Val coached me.