Everything I Need to Know I Learned in High School Accounting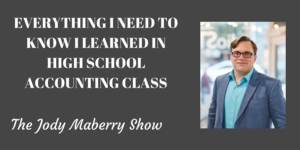 This week I was given a surprise reminder of someone from my past I am thankful for. Mrs. Warren, Jill Warren, was my high school accounting teaching. She had such a tremendous impact on me. Before I took one of her accounting classes in high school, I had no idea what to do. And I was a bad student. I didn't even try.
But Jill Warren changed all of that. After taking the first accounting class with her, I took every class I could that she taught. All business related. A few years ago one of Jill Warren's daughters contacted me. A milestone birthday was approaching for her mother and the daughters had a wonderful surprise planned. They reached out to former students of Mrs. Warren and asked them to write a letter about her.
I begin to write a letter, but sadly, I never sent the it. Sorry Mrs. Warren.
But this week I found everything I had written to Mrs. Warren in a notebook in my desk drawer.
So now is the time to thank Mrs. Warren and share this with you.
I call it Everything I need to know I learned in high school accounting. Learning the basics of accounting is really important. However, if you are a business owner, it might be wise to use Small Business Accounting experts. These are the 9 biggest lessons I learned from Jill Warren.
There is a reason to celebrate everyone. Just like when you run your own business, every part of the team is valuable. With the knowledge of finance team roles, we know that when it comes to the financial aspect of a business, there are specialists out that can give you a helping hand if you need it. This is especially useful when it comes to smaller businesses. In today's economy, there will always be a need for accountants and as a business, you should be looking at continually recruiting so you can have better management over the workload. In this instance, some accountants may turn their attention toward somewhere like these employment agencies omaha to help you recruit the best and most skilled accountants that you can find. Learning accounting during your time of education will give you a few tips and tricks that you can apply to any business you decide to start later in life. Even if dealing with the financial side of a business isn't your strong point, you can always do a comparison of Xero vs Quickbooks, as this can make managing your finances a lot easier to handle. This is why tools like these are available.
Mrs. Warren celebrated her students with the Winners circle.
A smile and a handshake can build trust and mutual respect. Mrs. Warren greeted every student at the door as they entered her classroom. She shook our hand and welcomed us.
It is tough to be grumpy when someone looks you in the eye, smiles, and shakes your hand. If you want to change someone's mood treat them well regardless of how they show up. Everyone is dealing with a problem you don't know about. Your smile may be just what they needed today.
Respect can level the playing field. All of Jill Warren's students had different backgrounds. Different knowledge. Different skills and ambitions, but all of us were equally respected when we entered her classroom.
You can not always trust a smiling face and a generous handshake.
Timing is precious
Appearance and perception matter.
Patience.
You can have a big impact by impacting one person.
So it may be true that everything I needed to know I learned in high school accounting. Thank you, Jill Warren. I am positive I would not be who I am today without you