The Four Books I'm Always Reading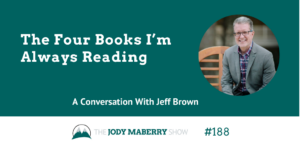 The adage 'Leaders are Readers' is something I have seen proven time and again. Jeff Brown, host of the Read to Lead podcast, and I give you a little peek into the role that books play in our day to day lives.
There are four categories that I benefit from diving into whenever I can. At any given time, I am always reading four books; not the same four books, but one book in each of the following categories: Entertainment, Business, Self-Help, and Copywriting. There is a time and place for each topic and I'm outlining that here.
People regularly ask both Jeff and me for book recommendations, so here is our quick start list by category:
Entertainment:
The River of Doubt: Theodore Roosevelt's Darkest Journey by Candace Millard
Skeletons on the Zahara: A True Story of Survival by Dean King
Anything by Rick Bass
Generally, if there is someone you admire, see if there is a biography on them – it is a great place to start.
Business:
QBQ by John Miller
Building a Story Brand by Donald Miller
Around the Corner to Around the World: A Dozen Lessons I Learned Running Dunkin Donuts by Robert Rosenberg
Self-help
Die Empty: Unleash Your Best Work Every Day by Todd Henry
Man's Search for Meaning by Viktor Frankl
Motivation Code: Discover the Hidden Forces That Drive Your Best Work by Todd Henry
Lastly, make sure to check out Jeff Brown's Podcast Read to Lead. You can also preorder his book, Read to Lead, which comes out later this year.
Connect with Jody:
Instagram – https://www.instagram.com/sugarjmaberry
LinkedIn – https://www.linkedin.com/in/jodymaberry/
Facebook – https://www.facebook.com/sugarjmaberry/