Take the Opportunities in Front of You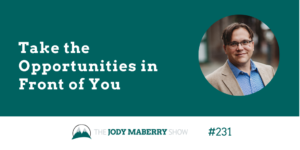 Lee Kitchen is back for our follow-up episodes where we flip the script, and my guest becomes the interviewer. Lee came up with a fun set of questions, and I can't wait to answer them.
First, when you were young, what did you want to be when you grew up? I had a top three that were about as different as you can come up with. But they all make sense in their way.
Second, if you were a Disney tour guide, what four attractions would you make sure your guests saw? Well, you will have to listen for the suggestions, but I will let you know you need a park hopper pass to see them all…or stay for multiple days.
Third, in eight years as a park ranger, how many yogi bear jokes did you hear? A lot. But there was something I was asked or told many more times, and it might surprise you.
Lastly, I let Ken sneak in a bonus question…and I'll give you a hint…the answer earned me a label of "squirrel guy". I hope you enjoy these questions and answers today. I know I did.
Connect with Jody:
Instagram – https://www.instagram.com/sugarjmaberry
LinkedIn – https://www.linkedin.com/in/jodymaberry/
Facebook – https://www.facebook.com/sugarjmaberry/