Marketing Lessons from Landscaping Companies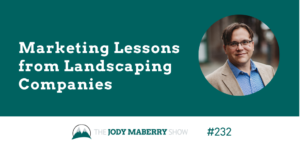 I recently received not one, but two of the same type of marketing pieces. I hate to say it, but it wasn't the best marketing I have seen. It got me thinking, what makes a good marketing piece? I have Cassie Tucker back with me again to dive a little deeper into what makes a good piece and what these landscaping companies can do to improve on their attempts at getting their services out to the public.
Check out what others in your industry are doing and learn from it. Determine where your future clients are going to find info on the services you offer. Once you identify where make sure you are there. Maybe it is on review sites or inside local Facebook groups. Wherever it is, make sure you have representation.
It is ok to change your marketing focus by season. Often, people are looking for services at certain times. Make it simple to find you. Spend time getting to know people. Take the initiative and network with individuals in complementary industries. This is a great way to get your business in front of those who need your services.
Last, remember that experience is key. The best advertisement you can get is word of mouth from happy customers. Make sure your messaging is key, and you equip your team to provide consistent service. You can have the best marketing possible, but without providing consistent customer service, you may as well be tossing business cards tied in a bag with a rock.
Connect with Jody:
Instagram – https://www.instagram.com/sugarjmaberry
LinkedIn – https://www.linkedin.com/in/jodymaberry/
Facebook – https://www.facebook.com/sugarjmaberry/