How to Launch a Successful Kickstarter Campaign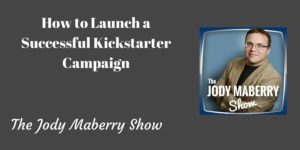 Sometimes it takes money to get your message or product out into the world. Crowdfunding through Kickstarter and Indiegogo have become a popular way to raise money from a crowd. Leading the way for many other crowdfunding sites to pop up over the internet, some of the top crowdfunding sites as of right now have been compiled by GoFundMe, they even categorize each crowdfunding site by what they should be used for, whether it be personal finances or funding a non-profit charity, etc.
When it comes to launching a Kickstarter campaign, the Field of Dreams principle does not apply. Just because you build it does not mean people will come. When you launch your campaign, people do not just show up and fund it. Just like people don't show up and listen to your podcast because you recorded it. On this episode of The Jody Maberry Show, I am joined by a Product Launch Expert, a Copy
On this episode of The Jody Maberry Show, I am joined by a Product Launch Expert, a Copywriter, and a Musician teach us how to launch a successful Kickstarter Campaign.
Khierstyn Ross offers her expertise on launching a successful crowdfunding campaign. Khierstyn has helped creators and entrepreneurs raise more than $1 million dollars through crowdfunding. Ray Edwards gives us advice on writing copy for a campaign. Jason Harrod shares what he learned from running a successful Kickstarter campaign to raise money to record a new album.
Here are the five things I learned from these experts about running a successful Kickstarter campaign;
Build your following before you launch a campaign.
If you have to spend too much time explaining your product, you are already in trouble.
Make sure you have a $25 reward level.
Reach out to people in your network so they know about your campaign.
Deliver everything you promise you will deliver.