Excellence Through Priorities with Jeff Noel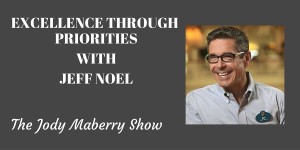 Jeff Noel spent 30 years at Disney World. The last 15 years Jeff was a speaker at the Disney Institute and spoke to over 1 million people. Jeff understands what makes Disney World so successful, from the big picture of leadership and customer service to the very smallest items, like trash.
Jeff joins the Jody Maberry Show to talk trash. Disney World is one of the cleanest places you will visit. How do they do it? More importantly, why do they do it? What does Disney obsess about the cleanliness of the park?
One of the key's to making Disney World so clean is Cast Members understand what their priorities are. First, Cast Members make sure Guests have a great time. Second, Cast Members pick up trash. Third priority is the job you were hired to do. Imagine the impact it has on the culture for every cast member to understand picking up trash is so important, you should pick up litter before you tend to the job you were hired to do. That is how you create excellence through priorities.
Jeff's Website – Jeffnoel.com and midlifecelebration.com
Jeff's Book – Midlife Celebration
Jeff on Twitter – @jeffnoelmidlife