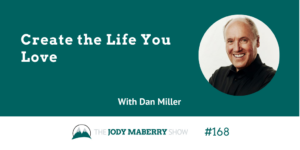 Today, author Dan Miller joins me, and we are unpacking what it takes to create the life you love.
Dan is one of the top 4 influential people in my life. This year marks the 20th anniversary of his book, 48 days to the Work You Love, now re-released with an updated title – 48 Days to the Work And Life You Love. Life isn't just about work. Determining the areas that carry value for us will help us steer towards our desired outcome.
We are diving deep into the mindset, perception, and belief system that makes a life we love possible. How we interpret opposition, how we define success; these are the factors that will propel us into the future. We also discuss the importance of taking action and the five steps we to making effective decisions. Dan has also graciously provided a special gift for my listeners. You can find the link in the episode resources.
Episode Resources
48 Days to the Work and Life You Love – Dan Miller
Quiz & First Chapter: https://www.48days.com/jody/